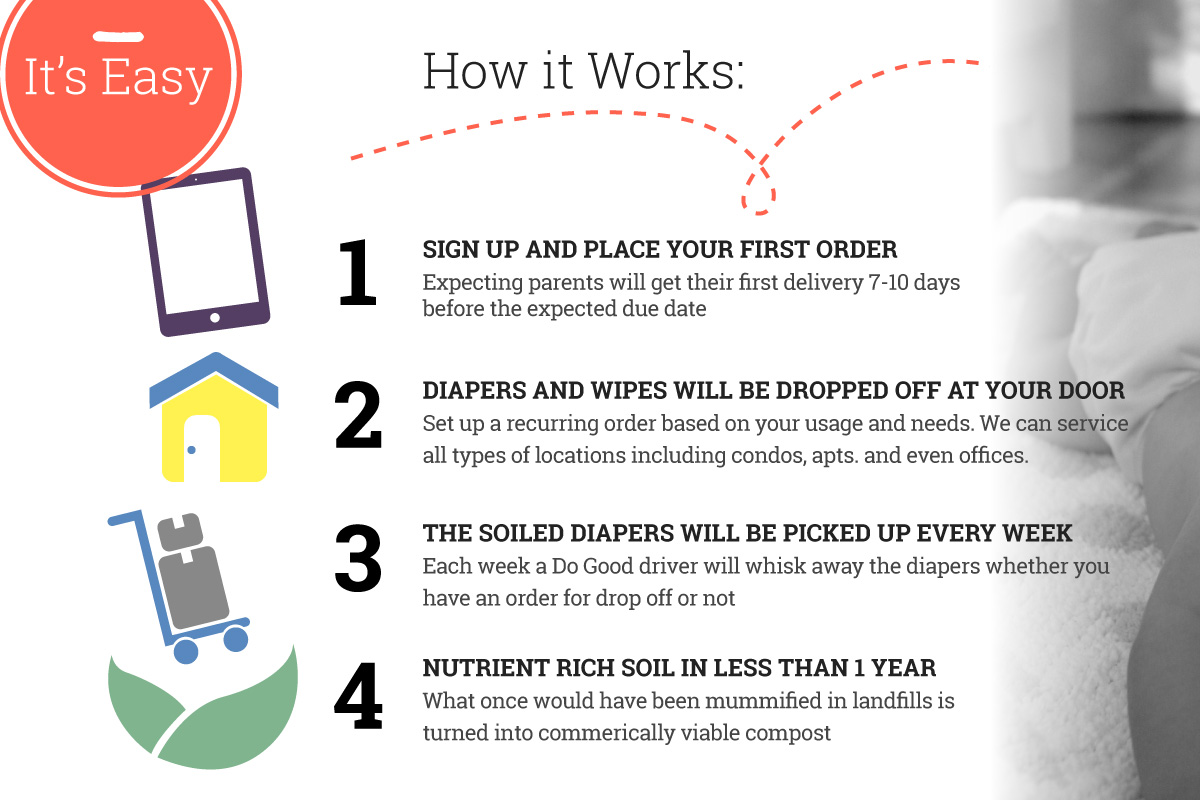 Sign Up For Compostable Service
---
Starter A ($99):
1 Month of service, 4 packs of newborn diapers, 4 packs of wipes, Earth Mama Baby Essentials Kit (Balm,lotion, wash and massage oil)
Starter B ($149):
1 Month of service, 4 packs of newborn diapers, 1 case of wipes, Earth Mama Baby Essentials Kit (Balm,lotion, wash and massage oil), 1 Dekor diaper pail
Starter C ($429 BEST DEAL!):
1 year of service, 4 packs of newborn diapers, 1 case of wipes,Earth Mama Baby Essentials Kit (Balm,lotion, wash and massage oil), 1 Dekor diaper pail
Size Newborn and 1
$9.99/pack
Sizes 2-6
$11.99/pack
Pull Ups
$14.99/pack
Wipes:
$4.25/pack, $44 case of 12
Monthly delivery/pickup/composing: $30/4 weeks
Dekor BioLiners:
$18/2 pack
| | | |
| --- | --- | --- |
| Size | Weight | Count |
| Newborn | <10 lbs | 26 |
| 1 | 4-11 lbs | 26 |
| 2 | 6-13 lbs | 34 |
| 3 | 9-20 lbs | 31 |
| 4 | 15-40 lbs | 27 |
| 5 | 24-55 lbs | 23 |
| 6 | 35+ lbs | 18 |
| Pull Up 4 | 15-40 lbs | 22 |
| Pull Up 5 | 24-55 lbs | 20 |
| Pull Up 6 | 35+ lbs | 18 |
*Some parts of the diapers (Ex. adhesive tabs) do not breakdown during composting and are screened out at the end of the process. The majority of the diapers do breakdown.
**Diapers are not suitable for home composting
***To ensure the integrity of the wastestream diapers can not be put into curbside composting.