New Client Packages – Prefolds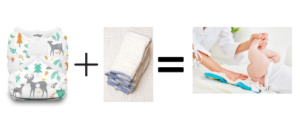 Do Good offers different new clients Prefold diaper delivery service packages with pricing based on the length of service. All packages require a four-week minimum, with packages delivered approximately one week before the baby's due date. All packages come with a four-week grace period to allow for late arrivals and slow starts – after the initial four weeks, the normal weeks will be applied to the package. Our Prefold new client package pricing is as follows:
13 Week Package: $369
26 Week Package: $679
52 Week Package: $1299 (Best Value)
*All packages have a 4 week minimum
**All packages are delivered approx. 1 week prior to baby's due date.
***Packages come with a 4 week grace period to allow for late arrivals and slow starts. After that 4 weeks normal weeks will be applied.
Our all-inclusive Prefold starter packages are curated to make it easy for every parent to use reusable diapers. We provide everything you need to get started using reusable diapers to save money and benefit the environment. As baby grows – simply turn in your current size, and we'll bring the next size. You continue to use our gear as long as you are using our service. Our new client Prefold and diaper delivery service packages come with the following:
80 Cloth Diapers/week
(Pre-folds)
Diaper Pail rental
7 Diaper Covers
2 Snappi Fasteners
Travel Bag
Diaper Pail Liners
Weekly pickup and laundering
Premium Gro-Via Hybrid Packages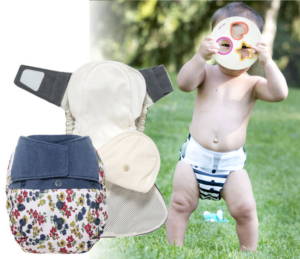 If you want the convenience of the Hybrid reusable diapers, consider choosing our Premium Gro-Via Hybrid package. You can choose to use Hybrid diapers full-time or part-time. Some parents continue to use Prefold at home, but like the convenience of Hybrid diapers for daycare or when out and about with baby, upgrade from Prefold diapers to our Premium Gro-Via package. Full Time or Part-time, you can make a difference!
Full Time: $40/week
Part-Time: $32/Week
*All Premium Packages have a 12-week minimum
Our Premium Gro-Via Hybrid packages make it easy to enjoy the benefits of reusable diapers. We pick up and wash it all – simply put the diaper and shell in the pail liner and leave the rest to us. Your Premium Hybrid package will come with the following supplies and services:
Full Time
20 Gro Via Shells/Week
70 Absorbent inners
Diaper Pail
Diaper Pail Liner
Travel Bag
Part Time
10 Gro Via Shells/Week
35 Absorbent inners
Diaper Pail
Diaper Pail Liner
Travel Bag
All-In-One Diaper Service

Enjoy the benefits of the best eco-friendly diapers without the dirty work. All-In-Ones (AIOs) gives you the convenience of the best cloth diaper without all the guilt of adding excess waste to the environment. Loved by parents, grandparents, and daycares, this easy-to-use option is great for all families.
Our all-in-ones come in two sizes, Newborn (6-12 lbs) and Regular (12-35 lbs)
All AIO packages have a 13 week minimum.
Our Premium All-In-One Diaper packages can be used full or part-time. Some parents want to use All-In-One diapers exclusively and need full-time service, while others still use Prefolds at home and only use All-In-Ones for daycare or outside the home. We have two All-In-One Premium packages to suit your needs. 
AIO Full Package: $49/week
Up to 70 All-In-One cloth diapers/week
Pail
Pail liner
Wet bag
AIO ½ Package: $35/week
Up to 35 All-In-One cloth diapers/week
Pail
Pail liner
Wet bag
50/50 Package: $42/week
Up to 35 All-In-One cloth diapers/week
Up to 35 prefold diapers/week
5 diaper covers
Pail
Pail Liner
Wet bag
Not sure which sustainable baby cloth diapers are right for you and your baby? Our Premium Trial (4 Weeks) package gives you everything you need to figure out your diapering style! You will receive:
60 prefold cloth diapers
5 prefold diaper covers
1 Snappie fastener
1 Pail
1 Pail Liner, replaced weekly
5 All-in-One cloth diapers
2 All-in-Two covers and 5 inserts
1 Travel Wetbag
$30 Credit when you sign up for any 12+ week package
4 Weeks For Only $169
Tired of washing diapers? Are solids getting gross? Let Do Good take care of your investment. Once a week, we'll pick up, wash and return your diapers fresh and clean. This is a convenient cloth diaper cleaning service that makes it easier to use sustainable baby diapers. Our cleaning and diaper delivery services and pricing include:
Weekly Do Good Wash (one child) – $26
One Time Set Up Fee – $39
Cloth Diaper Deep Clean – One Time
Do you have a stinky cloth diaper stash? Are your diapers providing less absorbency? If your cloth diapers just need a really good prepping or deep cleaning – let Do Good do the heavy lifting. We'll pick up, strip, and return your sustainable cloth diapers fresh, clean, and ready for action. 
One Time Do Good Deep Clean – $39
Health and Wellness Fee
Do Good is committed to providing health and wellness options for all our employees. A 4% Health and Wellness fee will be added to all invoices to help support this goal. Please ask our team how they take advantage of this program. This is a surcharge, not a gratuity.
The longer you commit the better the discount!
After your initial package is done or if you have your own covers and gear, our pricing is based on how many diapers you use.
30 Diapers/Week: $24
60 Diapers/Week: $27
90 Diapers/Week: $30
120 Diapers/Week: $33
150 Diapers/Week: $36
Our average client is approx. $24/week Plus, when your baby potty trains, we'll refund your remaining package. Find out more here.
The benefits of cloth, plus the convenience of compostable. Great for babysitters and family!
Need to move up in size? Or perhaps change your diaper amount? Changes are simple via our website.