New Family Start Up Package $169
4 Packs of Compostable Diapers
1 Case of Compostable Wipes
Do Good Diaper Balm
Diaper Pail Rental
4 weeks Pick Up and Composting
1 Roll of Large Compostable Liners (25 Bags)
1 Roll of Travel Compostable Liners (50 Bags)
Compostable Pricing
$34/Month

Pick up/Delivery/Composting of diapers
Diaper Pail rental
Compostable pail liner (weekly)

Diapers: $13.49/Pack
Wipes: $4.50/Pack or $45 Case (12 Packs)
Compostable Diaper Sizing
Regular Diapers – $13.49/pack
Size N (28): 6-12 lbs
Size 2 (30): 10-16 lbs
Size 3 (33): 14-26 lbs
Size 4 (30): 22-37 lbs
Size 5 (27): 27+ lbs
Pull Up Trainers – $14.99/pack
Size 4 (22): 15-40 lbs
Size 5 (20): 24-55 lbs
Size 6 (18): 35+ lbs
Wipes
1 pack: $4.50
1 Case (12 Packs): $45
*Some parts of the diapers (ex. Adhesive tabs) do not breakdown during composting and are screened out at the end of the process. The majority of the diapers do breakdown.
**Diapers are not suitable for home composting
***To ensure the integrity of the wastestream diapers can not be put into curbside composting.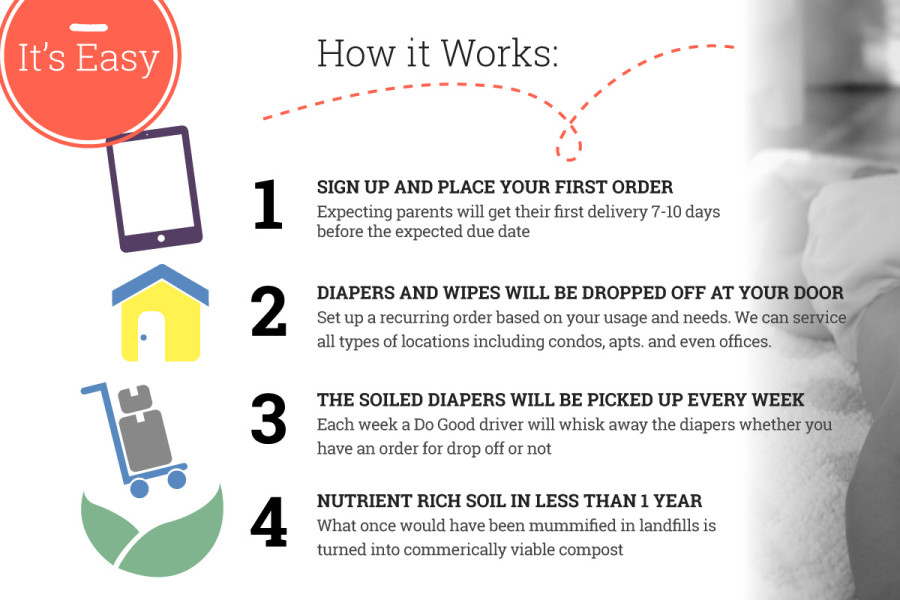 Need to move up in size? Or perhaps change your diaper amount? Changes are simple via our website, or with our mobile app.