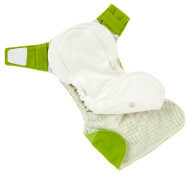 Using green diapers can be easy and convenient when you have a variety of options. The Hybrid or All-In-Two (AI2) diaper is designed to give parents sustainable cloth baby diapers that can be used in various settings. Hybrid/AI2 diapers include two pieces – the outside diaper cover and either a cloth or disposable absorbency layer. It combines the green benefits of cloth diapers for home or family environments but can be used with a disposable absorbency insert for convenience when the baby is at daycare, or you are away from home. 
Hybrid/AI2 Design

 
One of the best Hybrid diaper brands is Gro-Via, which we use at Do Good. The design combines an outer shell that is water-resistant on the outside with a polyester mesh on the inside – there are snap or hook and loop closure options through Gro-Via. The absorbency layers can vary from cost-effective cloth diapers or disposable inserts, as well as booster absorbency pads to add for nighttime or traveling. The outside cover is adjustable to ensure a good fit to grow with your baby. 
Benefits of Hybrid Diapers

 
With the Hybrid or All-In-Two diaper, you have an easy-to-use green diaper that is versatile for different settings. The outside shells are attractive and contain no dioxins – they can be used repeatedly and fit most babies from 8-30 pounds. Many parents like the option to use cloth for the majority of diaper changes but the convenience of using a disposable pad when they are not at home. Hybrid/AI2 eco baby diapers offer the best of both worlds in one convenient diaper system. 
Not sure if Hybrid/AI2 green diapers are right for you? Talk to our team at Do Good to learn more about Hybrids and our other types of cloth diapers to determine which is right for you. We offer a convenient and affordable diaper delivery program in the Twin Cities, including our Premium Gro-Via Hybrid package. Call or contact us online for more information.