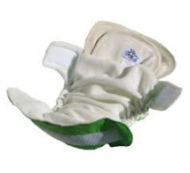 Pockets are a version of sustainable cloth baby diapers that provide a system to keep the baby dry with reusable absorbency layers. This two-piece system features a diaper shell that contains a water-resistant outer cover and a softer inner layer with a pocket to hold the absorbency layers in place. Absorbency pads or cloth diapers can be inserted through the opening, then removed when soiled and replaced. Some parent prefers this design as it does offer some benefits over Prefold or other types of cloth diapers. 
How Do Pocket Diapers Work?
If you want to know how to use pocket diapers, they are fairly simple to understand. Pocket green diapers offer a true waterproof exterior sewn to suede or fleece-type inner layer that helps wick moisture away from the skin. Pockets have an opening at the back, front or both to insert the absorbency layers. Pockets keep everything in place and are easier to put on than the conventional Prefold cloth diaper. Once stuffed with an absorbency layer in the pocket, the diaper simply wraps around and is fastened in place. 
Benefits of Pockets

 
While pockets are very similar to Hybrid/AI2 cloth diapers, they are slightly different in design. Pockets require the absorbency pad or cloth to be inserted or "stuffed" inside, while Hybrid diapers have absorbency layers that can be snapped or just laid in place. The benefits of Pockets that many parents like is the protection provided for the skin – the suede or fleece inside layer pulls moisture away from the skin and allows it to be easily absorbed by the insert in the pocket. Also, Pockets allow for versatile absorbency options, which can be great for nighttime or traveling. 
If you are considering cloth diapers, the different options can seem confusing or overwhelming for new parents. The good news is our friendly team at Do Good Diapers is here to help you find the right sustainable baby cloth diaper option for your lifestyle. To learn more about Pockets and our diaper delivery programs and packages in the greater Minneapolis/St. Paul area, contact us at 612.990.2183 or through our website.