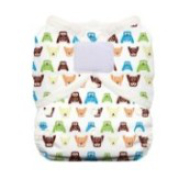 The original cloth diapers were flat pieces of cloth folded to increase absorbency in the needed area. The Prefold cloth diaper has been used for decades and has thick layers of cloth folded into the tri-fold design. Prefolds are one of the best eco-friendly diapers and the most cost-effective of sustainable diapers we offer at Do Good Diapers.
How Do Prefolds Work?
The design of Prefold cloth diapers is simplistic and effective. The pre-folded cloth diaper absorbs, and the Snappie or Prefold diaper covers hold the diapers in place. The rectangle is folded and wrapped around the baby and held together with a Snappie. It can also be placed inside a diaper cover, and the cover keeps the cloth in place. In addition, the diaper covers can be reused if not soiled, just replacing the Prefold diaper during changing.
Benefits of Prefold Diapers
Prefolds are green diapers that can save money and reduce waste. Investing in sustainable cloth baby diapers can save thousands of dollars over your child's first years compared to disposable diapers. The cloth diapers, diaper covers and Snappie can be used over and over, only requiring cleaning. Prefold cloth diapers can also be used with some Hybrid/AI2 or Pocket systems.
Are Prefolds Right for You?
Prefold diapers are a little more work than All-In-One, Pocket or Hybrid/AI2 diapers, but they are also more cost-effective. Many parents use Prefolds when they are at home as it can save money but prefer other diaper systems for when the baby is at daycare or out in public. At Do Good Diapers, we make using Prefold diapers easier with our convenient diaper delivery service and cleaning. We also have diaper packages that include half Prefold and half Hybrid to give you different options to use during the week.
To learn more about our Prefold diaper cleaning and delivery services and packages, call our office or sign up through our website.